testimonials
I want thank you and all of your staff at Recreational Debut for the success you are having in getting student athletes scholarships. As a non profit I know you love this game because it has meant a lot to you but more important you have displayed your l
Earl Jordan Head Coach Atherton High School
Flint, Mi
Dennis, I wanted to tell you thank you for the invite to your Showcase. My son Denver had a especially great time when you were the one coaching his team in the first round of games. It was a great experience to play with the caliber player's that were
Thank you Coach Bell for the opportunity to participate in the college showcase yesterday September 9th. I learned a lot from You and Greg Kelser and I also seen some things that I need to improve on so i can take my game to the next level. I appreciate a
Nehemiah Graddick
Annapolis High in Dearborn Heights, Mi.
Recreational Debut is a program that has been needed for our kids for a long time.
Bennette Gay
former coach Creston High School
Dennis, I wanted to tell you thank you for the invite to your Showcase. My son Denver had a especially great time when you were the one coaching his team in the first round of games. It was a great experience to play with that caliber of player's.
DB just wanted to say thank you for you time and efforts. The boys really enjoyed the time there and enjoyed meeting you guys. I'm excited about my boys future and look forward to seeing you again. The triplets. Thank you. Flint McCallum Cincinnati, O
Flint McCullen
Cincinnati, Ohio
Thank you again for inviting me to the showcase. I really enjoyed myself and was impressed with the competition. I look forward to seeing you in Cincinnati.
Mike Wells
All American, Ohio
When I got my scholarship to the University of Colorado of the Big 12 to play basketball it was the greatest thrill I have ever had.
Micah Bell
Wyoming Park High School, Wyoming Mi.
Recreational Debut changed my life by helping me get a full scholarship to division 1 University of North Carolina at Wilmington.
Bobby Springer
former Union High Basketball star
Dennis what a great program! Your All American Nominees process is the best in the country. Let me know if you have any good players.
Coach Ed Pipes
Tennessee State Ubiversity
Good evening Dennis!! The Posey's have arrived safely back in Ohio. Writing to thank you so much for an awesome event. I felt everything went well and was professionally done. You did what you said you were going to do.
Collen Posey
Cleveland, Ohio
I had no scholarship offers untill Recreational Debut helped me and I proud to say I got a full scholarship to Delta, unblievable.
Derico Sanders
Creston High
Dennis not only is your program promising things, it is delivering. I coached high school basketball for 24 years and you were extremely helpful in the recruiting process. With your acknowledgement letter was the key in getting the ball rolling
Jeff Walker
Cedar Springs High School
Dennis before your program my son Alex had only one call from coaches now he is getting several, we are excited and thank you.
Joe Rogers
Comstock Park
Dennis what a great program! Your All American Nominees process is the best in the country. Let me know if you have any good players.
Coach Ed Pipes
Tennessee State Ubiversity
D Bell - great to see you and Micah!! Great event. Keep it going man!!!
Terry Smith
Finlandia University
I would highly recommend Dennis Bell and the Recreational Debut recruiting services. His program was very instrumental in helping my son, Daniel King secure a 2014 McDonald's All American nomination. His elite recruitment services created a phenomenal h
Melisa King
Detroit, Mi
Frequently Asked Questions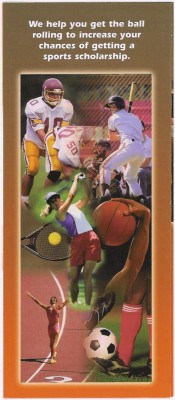 We believe that an informed customer is the best customer, so we wanted to share some of the questions that tend to come up pretty often. To view an answer click on the question.
What makes your service better than others

Our acknowledgement letter is the key to your success. Coaches get letters everyday but when a former professional athlete acknowledges you they are compelled to read your material. This elevates your status and our program to another level.

Do you have to be a great player to use this service.

No you do not have to be a great player, matter of fact this program is geared towards the average player.

Why do I need a recruiting service.

There are 7,000.000 high school students that participate in high school sports every year and only 6% will play at the next level. If you don't have a marketing program you will have a very hard time getting into the 6%. Remember coaches have a small budget to recruit from so you must bring your skills to them.

How are my payments tax-deductible?

Since Recreational Debut is a registered 501-C3 Non-Profit Organization you can write off any money spent on the program just like you can when giving to a local charity.

What if I play more than one sport?

Most people choose to focus on the sport they're best at, as most scholarships result from a single sport. However, if you choose to pursue two sports we recommend getting the "Gold" package for your best sport, and then the "Bronze" package for the other.