testimonials
Dennis, I wanted to tell you thank you for the invite to your Showcase. My son Denver had a especially great time when you were the one coaching his team in the first round of games. It was a great experience to play with the caliber player's that were
Dennis, I wanted to tell you thank you for the invite to your Showcase. My son Denver had a especially great time when you were the one coaching his team in the first round of games. It was a great experience to play with that caliber of player's.
Dennis what a great program! Your All American Nominees process is the best in the country. Let me know if you have any good players.
Coach Ed Pipes
Tennessee State Ubiversity
When I got my scholarship to the University of Colorado of the Big 12 to play basketball it was the greatest thrill I have ever had.
Micah Bell
Wyoming Park High School, Wyoming Mi.
Good evening Dennis!! The Posey's have arrived safely back in Ohio. Writing to thank you so much for an awesome event. I felt everything went well and was professionally done. You did what you said you were going to do.
Collen Posey
Cleveland, Ohio
I had no scholarship offers untill Recreational Debut helped me and I proud to say I got a full scholarship to Delta, unblievable.
Derico Sanders
Creston High
Recreational Debut is a program that has been needed for our kids for a long time.
Bennette Gay
former coach Creston High School
DB just wanted to say thank you for you time and efforts. The boys really enjoyed the time there and enjoyed meeting you guys. I'm excited about my boys future and look forward to seeing you again. The triplets. Thank you. Flint McCallum Cincinnati, O
Flint McCullen
Cincinnati, Ohio
Thank you Coach Bell for the opportunity to participate in the college showcase yesterday September 9th. I learned a lot from You and Greg Kelser and I also seen some things that I need to improve on so i can take my game to the next level. I appreciate a
Nehemiah Graddick
Annapolis High in Dearborn Heights, Mi.
I want thank you and all of your staff at Recreational Debut for the success you are having in getting student athletes scholarships. As a non profit I know you love this game because it has meant a lot to you but more important you have displayed your l
Earl Jordan Head Coach Atherton High School
Flint, Mi
Dennis what a great program! Your All American Nominees process is the best in the country. Let me know if you have any good players.
Coach Ed Pipes
Tennessee State Ubiversity
Thank you again for inviting me to the showcase. I really enjoyed myself and was impressed with the competition. I look forward to seeing you in Cincinnati.
Mike Wells
All American, Ohio
Dennis not only is your program promising things, it is delivering. I coached high school basketball for 24 years and you were extremely helpful in the recruiting process. With your acknowledgement letter was the key in getting the ball rolling
Jeff Walker
Cedar Springs High School
Recreational Debut changed my life by helping me get a full scholarship to division 1 University of North Carolina at Wilmington.
Bobby Springer
former Union High Basketball star
D Bell - great to see you and Micah!! Great event. Keep it going man!!!
Terry Smith
Finlandia University
Dennis before your program my son Alex had only one call from coaches now he is getting several, we are excited and thank you.
Joe Rogers
Comstock Park
I would highly recommend Dennis Bell and the Recreational Debut recruiting services. His program was very instrumental in helping my son, Daniel King secure a 2014 McDonald's All American nomination. His elite recruitment services created a phenomenal h
Melisa King
Detroit, Mi
Welcome to Recreational Debut
WAIVER FORM MUST BE FILLED OUT & RETURNED
---
---
---
---
Ask a Pro If You Want To Get Recruited!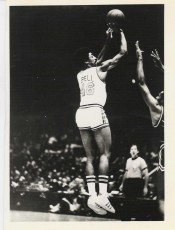 Former New York Knicks Player Dennis Bell
Former NBA Players Greg Kelser-Detroit Pistons, Dennis Bell-NY Knicks and Reggie Jordan-LA Lakers/Minnesotta Timberwolves at Recreational Debut's Pre-Season All American Showcase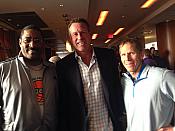 At the Final 4 Dennis Bell, Dan Majerle--Phoenix Suns Coach at Grand Canyon, and Mark Few Gonzaga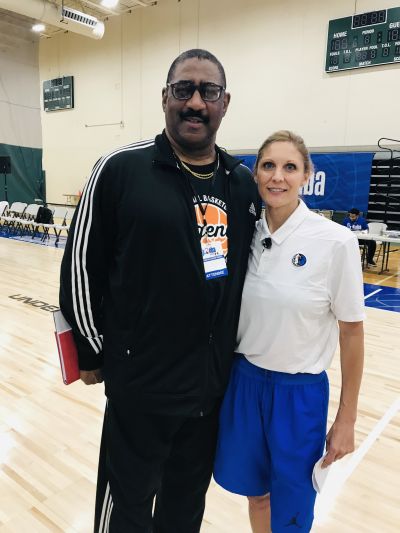 At the Jr. NBA with the Dallas Mavericks' first female Assistant Coach, Jenny Boucek. She is one of only seven coaches in the NBA. The NBA is a leader when it comes to gender equality, social justice, and diversity. It was an honor for me to play in this great league.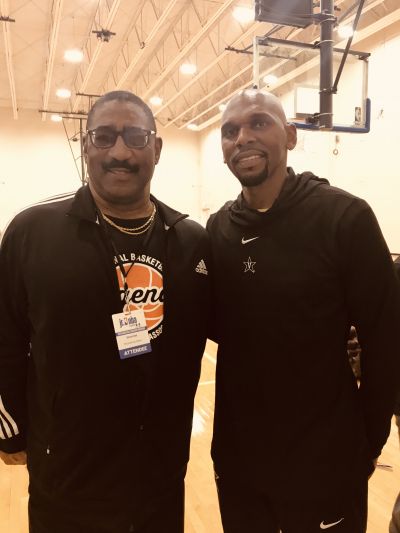 At the Jr. NBA with 18 year veteran and NBA all-star, Jerry Stackhouse. Jerry has just signed a 6 year deal to become the Men's Head Coach at Vanderbilt University. Congratulations, Jerry!
---
---
UNITY IN THE COMMUNITY FREE BASKETBALL JAMBOREE.
SPONSERED BY:
RECREATIONAL DEBUT, 616 ELITE, GRAND RAPIDS POLICE AND FIRE DEPARTMENT
WHAT: Basketball Clinic, Scholarship Seminar, All Star Game, talk on safety and plolicing in the community.
STARR STUDDED STAFF
Dennis Bell Former NY Knicks,
Michael Pops Sims-Union High-Marquette University
Micah Bell-Wyoming Park-Colorado/Grand Valley State-Europe
Pat Charity-34 years of D1 Coaching-Western Mi, Hawaii, Alabama
When-Wednesday, July 15, 2020
Time-Registration 4-5 pm, Program begins 5-7pm
Where-Martin Luther King Park 900 Fuller Se, Grand Rapids, Mi
Covid 19-"PPE" Practices will be enforced along with mask and social distancing. Hand Sanitizers are available.
Why-Sports is the catalyst that brings us together. What a great oportunity for the community, police and the fire department
to get to know each other. Each one teach one, this is how to bring Unity In The Community, It will be an outstanding program.
More Stars Coming-More Former NBA players, coaches and players TBA
Sponsorship Opportunities Available please call Kim 616 318 7378
Limitted to-50 players boys and girls grades 9-12 first come first serve
AGENDA
1. 4-4:30 pm Registration
2. 5-5:15 Introduction
3. 5:15 Speakers
4. 5:30 -6 Clinic on Fundamentals
5. 6-6:15 Scholarship seminar
6. 6:15 -6:45 All Star Games
7. 6:45-7 Closing statements
RFGISTRATION FORM
---
---
Former McDonald's And Recreational Debut's Pre Season All American Nominees From Our Program
Keonte Jenkins 6'0",Horizon Christian Academy, Fort Wayne, IN, Coach Anthony Beasley
Awards: Average 39 pts per game, All Conference, Player of the Year
Antonio Reviere 6'3" ,Allen Park High, Allen Park Mi. Coach James Victor
Awards: All League 2013-2014, News Herald Dream Team, Mi Prep Zone Player of The week

Cassel Jones 5'10" Grand Ledge, Lansing MI, Coach Scott Lewis
Awards: All League, All Area, All State

Kevin Day, 6'5", Father Gabriel, Ann Arbor, Mi, Coach Michael Coughlan
Awards: All Catholic League AA, Washtenaw County Dream Team, Father Gabriel MVP

Hunter Hale, 6'2", Kalamazoo Central, Kalamazoo, Mi., Coach Ramsey Nicholas
Awards: Played well at our showcase.

Jacob Traylor:, 5'10" , Wyoming High, Wyoming, Mi, Coach Tom Vanderklay
Awards: 1st Team All Conference, All State, M Live Player of Week, OK Blue Player of the Year

Malik Young, 6'4", Horizon Christian Academy, Ft. Wayne, IN, Coach Anthony Beasley
Awards: Lead the State of IN in Rebounding,

Jalen Gibson, 6'7", River Rouge, Detroit, Mi. Coach Bobby Thompson
Awards-Is very athletic, the All American Committee like his ability

Stefan Arkel Young, 5'10", Hanover, Horton, Mi., Coach Chad Mortimer
Awards-First team all league, first team all county, JYT all dream team

Clay Francisco, 6'5", Thornapple Kellogg, Middleville, MI., Coach Mike Rynerson
Awards-First Team All Barry County, Academic All State, Honorable Mention Ok Gold

Dennis Towns, 6'5", Powers Catholic, Flint, MI., Coach Greg Burks
Awards-All committee loved his ability

Donovan Carpenter, 6'7",. West Catholic, Grand Rapids, MI., Coach Tony Fisher
Awards-Won the three point shooting contest, should average double figures in rebounding the coming year

Curtis Garza., 6'0", N.Branch High,. N. Branch, MI.,Coach Mark Stevens
Awards-First Team All Conference, 2nd Team All Thumb, First Team All Advertiser

Phillip Grant,. 6'2".Theodore Roosevelt,. Kent, OH., Coach Ben Dunlap
Awards-3rd yr Scholar athlete Award, Academic Excellence Award, Team Captain, All Conference, Defensive player of the year, Athlete of the week 2014 National Honor Society, Principal Academic and Harvard Book Award - Excellent Award Team Captain

Jordan Bradley,. 5'10",. Princeton High, Cincinnati, OH,. Coach Jamal Walker
Awards-Quick, penetrates extremely well, knows how to run a team.

Caleb Kiser, 6'7",. Northridge, Middlebury, IN,. Coach Ronald Thomas
Awards-All Tournament R& D, All Tournament Indianapolis

Special Mention
Jamison Green, 6'4", Big Rapids, Big Rapids,